Nora Fatehi Instagram Images & Fashion Styles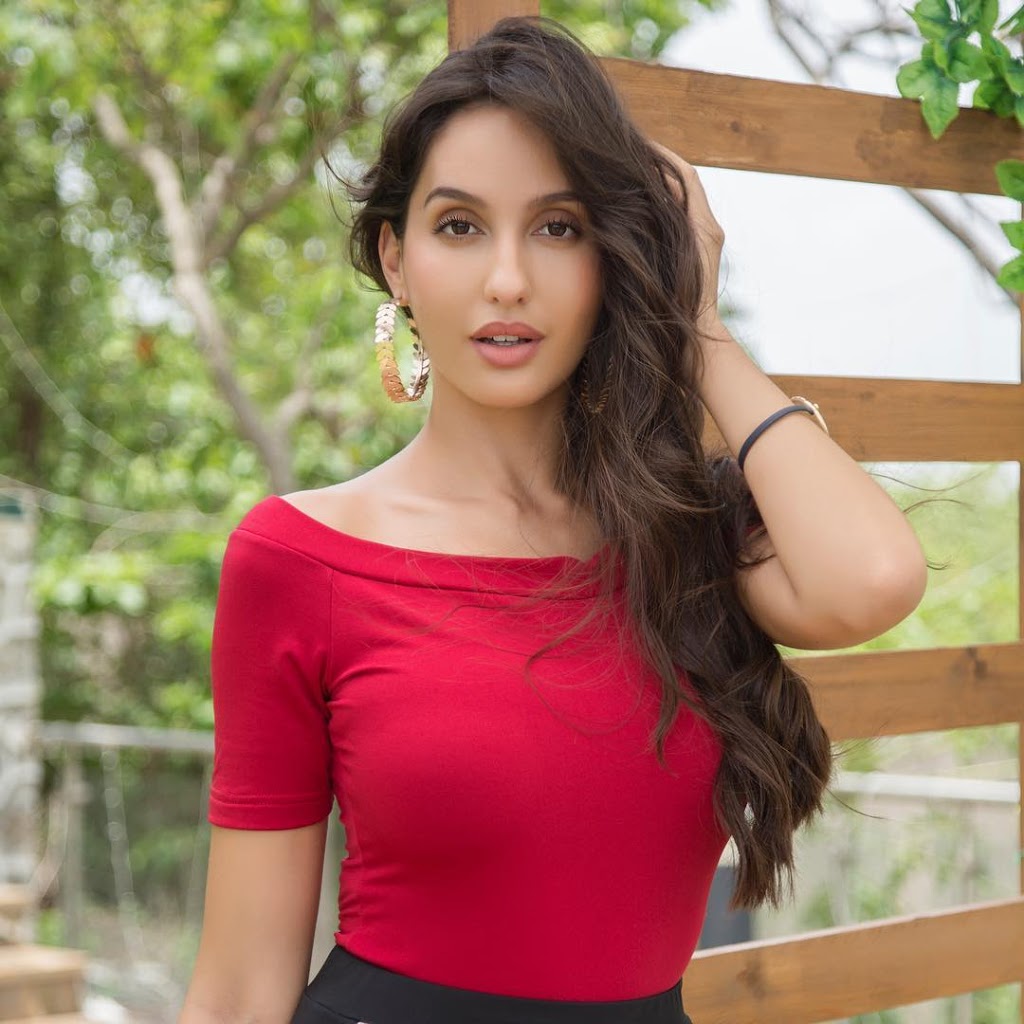 There is no doubt that Bollywood actress have their own charm and style. Each lady of Bollywood industry has their own mind set and own fashion sense. They never fail to show their individuality and style. The way they dress up themselves and he way they portray their personality speaks a lot about. Many actresses are known by their talents also and one such actress is Nora Fatehi.
Starting her career in Bollywood industry with the most amazing show of Salman Khan Bigg Boss, Nora has always stood firmly in the eyes of directors and producers. There lovely smile and amazing dance moves mesmerize everyone. And there is no doubt that her dressing and styles are always unique.
Let's see the latest outfits and designer dresses of Nora Fatehi which gave her a perfectly flawless look in every event. Below all images are from Nora Fatehi Instagram. Following are some of the latest looks of Nora:
Nora Fatehi Instagram Fashion Styles
The Tiger Printed Skirt with Golden Blouse: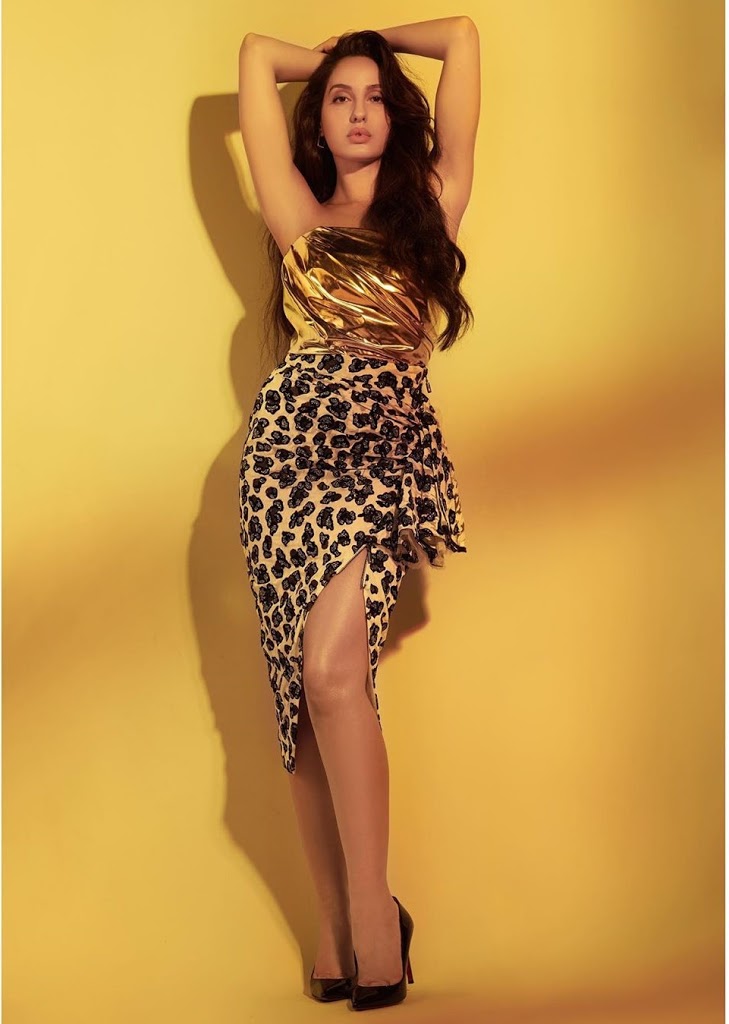 Image Source : Instagram
Looking really amazing this tiger printed skirt, Nora is portraying her unique dressing sense and amazing personality. She wore this skirt with a golden backless blouse which is really suiting her and she is looking much more sexy. She is looking outstanding in the black heels with a nude makeup and messy hair. This look of Nora can be take in any casual as well as in any great grand event. She is looking beautiful.
Her Casual Blue Shorts and White Crop Top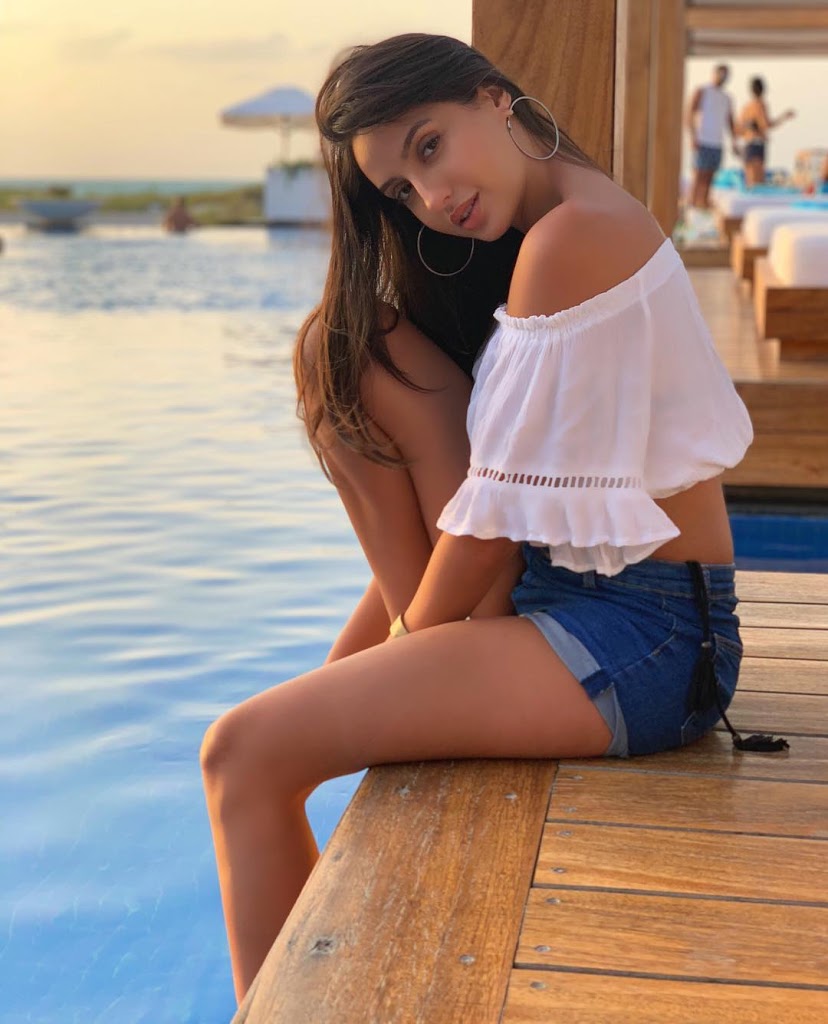 Image Source : Instagram
It is a fact that the beautiful lady of Bollywood, Nora Fatehi is one of the most stylish actress. She looks very unique in her every look and that too in every casual look. The way she style herself is really commendable. Here, you can see that she is just slaying in this casual blue shorts and white cold shouldered crop top.
The bell sleeves top is giving her a gorgeous look and there is no doubt to the fact that she is looking much sexier in this perfect beach or pool party look. This look of Nora can be easily carried for the casual pool parties, shopping outings and dates etc.
Evergreen Denim Jacket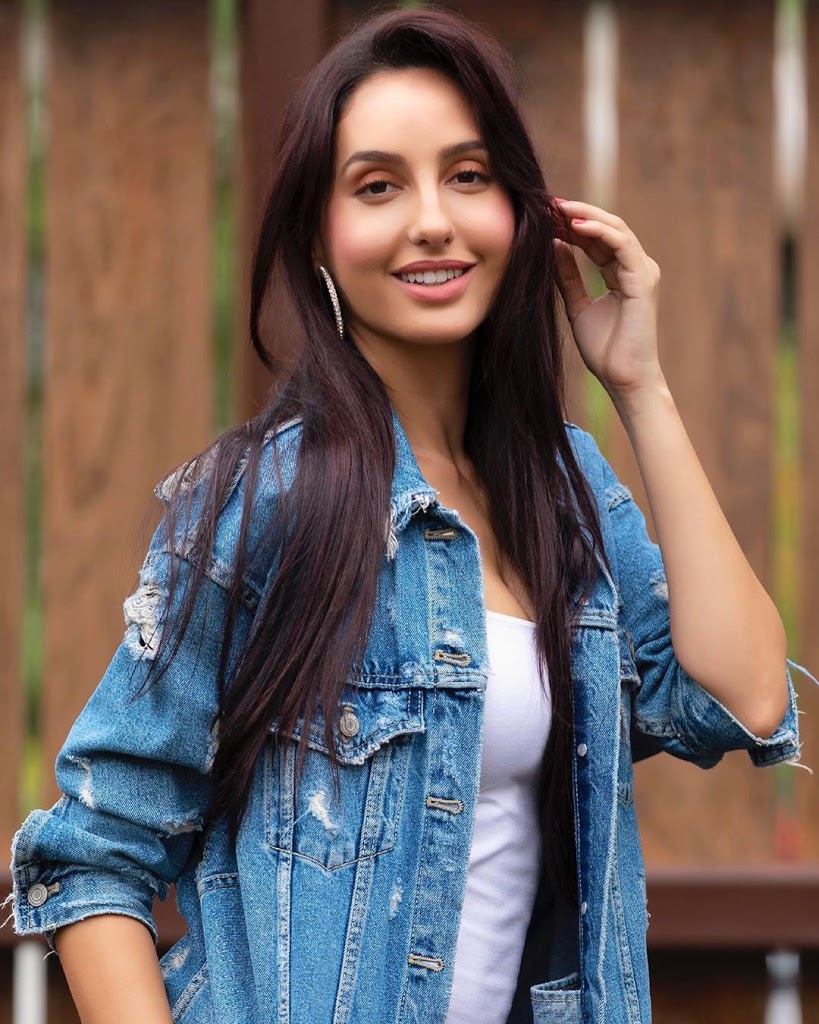 Image Source : Instagram
Denims are evergreen in the fashion market. It is a very well known fact hat denim looks can give anyone an extra ordinary look and can enhance an individual's personality. Here, in this picture, Nora is looking mind-blowing and much more than perfect as she is wearing this high class blue denim jacket along with white sando.
She is slaying perfectly in her long hair and white round earrings. Her smile is adding colors to this picture as well as in her personality and there is no doubt that Nora does not need a designer outfit in order to look sexy and gorgeous, she can look flawless in a very casual usual outfit as well.
Sassy Formal Yet Casual Look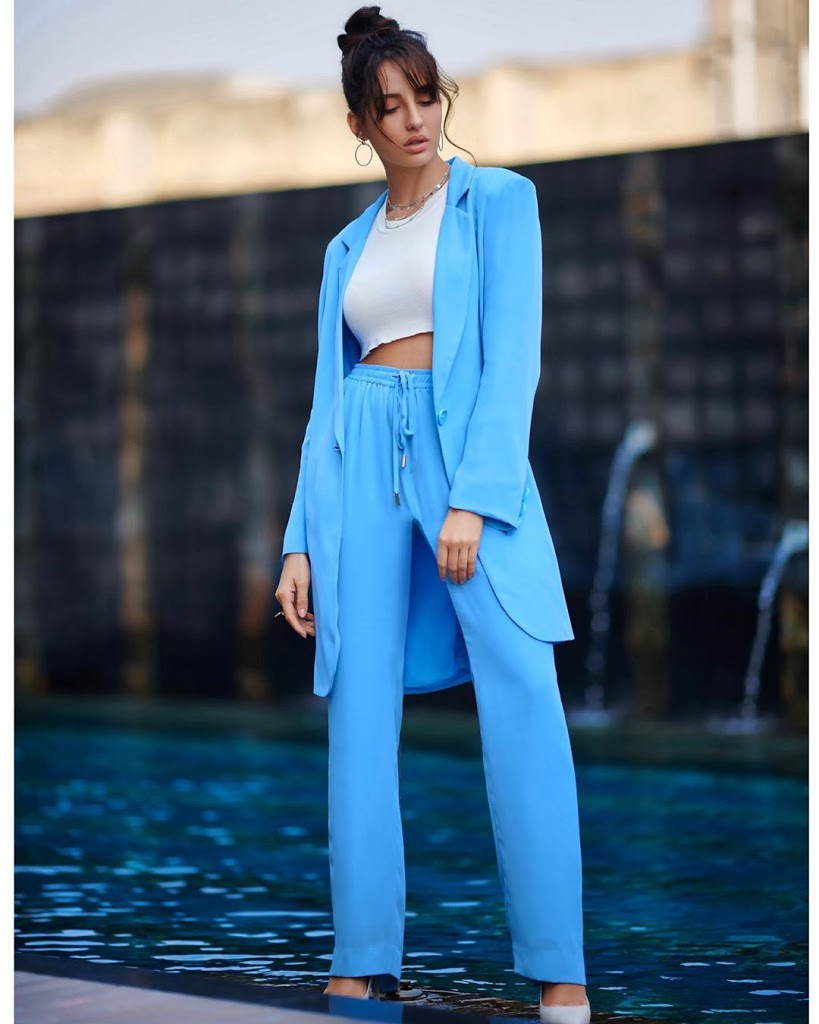 Image Source : Instagram
Have you ever thought that you can give a professional boring formals look a sassy and casual sexy look? Well, nobody can think of that but here, Nora has wore it and proved that she can just give any look a new definition. Nora is looking mind-blowing in this casual formals.
The way she has dressed herself is speaking a lot about her outstanding personality. This light blue color is looking amazing on her white skin and Nora is looking really pretty in a messy bun hairstyle.
Sexy Black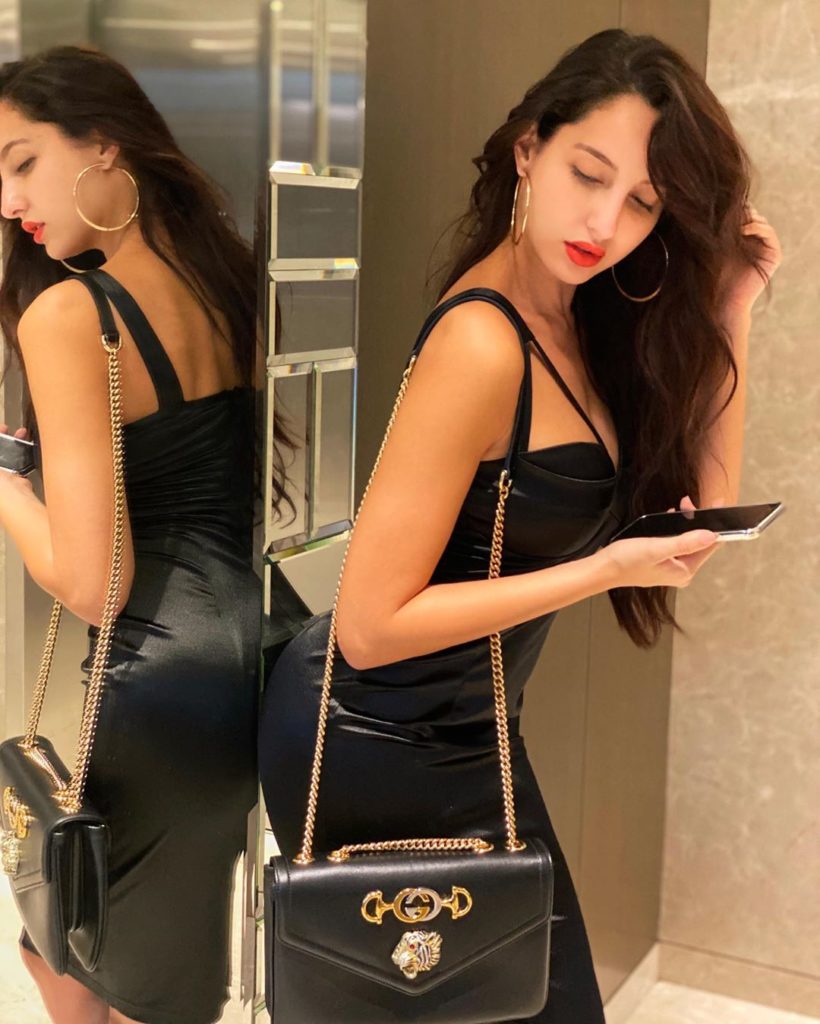 Black is a color which can give anyone a sexy and hot look. Nora is looking fabulous and sexy at the same time in this black leather pants and top. Her nude makeup along with a spicy red lipstick is making her more sexier and it is very clear that Nora is going to kill the party with her this killer look.
She has accessorized her dress with a black royal sling bag and round earrings. Nora always set an example for her female fans that you do not always need to wear designer outfits in order to look sexy, you can definitely look unique and stylish ion a simple casual outfits as well.
Royal Black Dress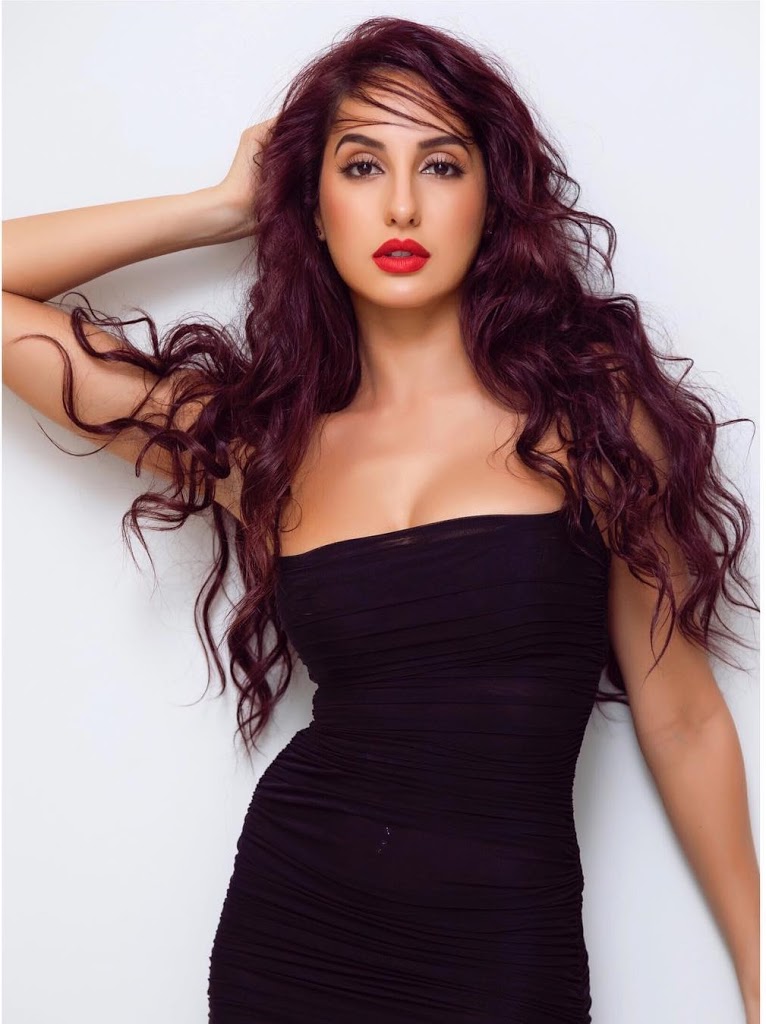 Image Source : Instagram
Black is definitely a royal color and when Nora wears it, black becomes a perfect synonym of sexy. Yes, again with a red lipstick and nude makeup, Moral s slaying in this black backless outfit. Her messy hair are enhancing her look and she is looking really hot.
This look of Nora is really mesmerizing and can be easily carried in any grand function or on an outing. In her every look, she has proved that her personality is very versatile just like her flawless body and she can look outstanding in any outfit that she wears.
Peaceful White Beauty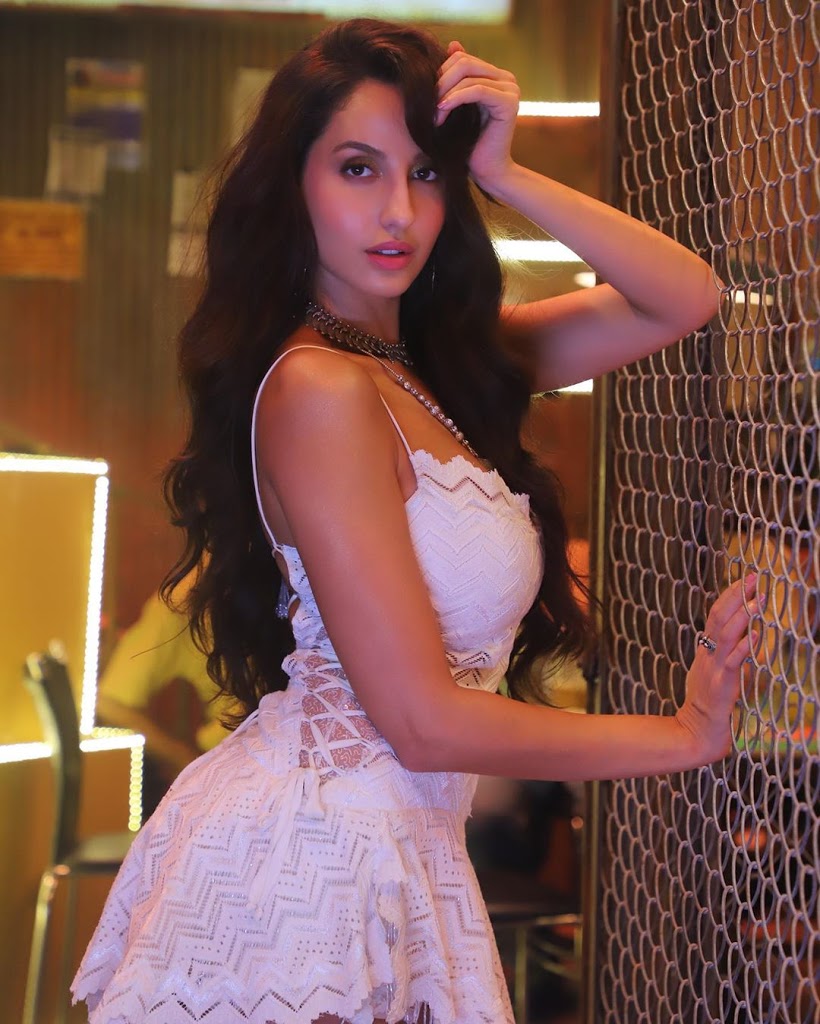 Image Source : Instagram
After the sexy black, here you can see that Nora is looking flawless like always in a very peaceful white color. It is always being said that white is a peaceful color but Nora has proved it wrong. This white color is giving her a sound look and her beauty is keeping her fans restless.
Her flawless wavy hair are enhancing her personality and definitely, Nora is looking really pretty and mesmerizing in this white dress. She defines the beauty in a next level and her personality is extremely amazing.
These were some of the best looks of Nora in which you can see it very clearly that she did not wear any particular designer dress. All her looks were very casual yet very unique. Hence, Nora ahs proved that's she can give any dress a new style and can look beautiful and sexy in any outfit. She is definitely a inspiration for all the ladies.