Tremendous Bollywood Beauty – Janhvi Kapoor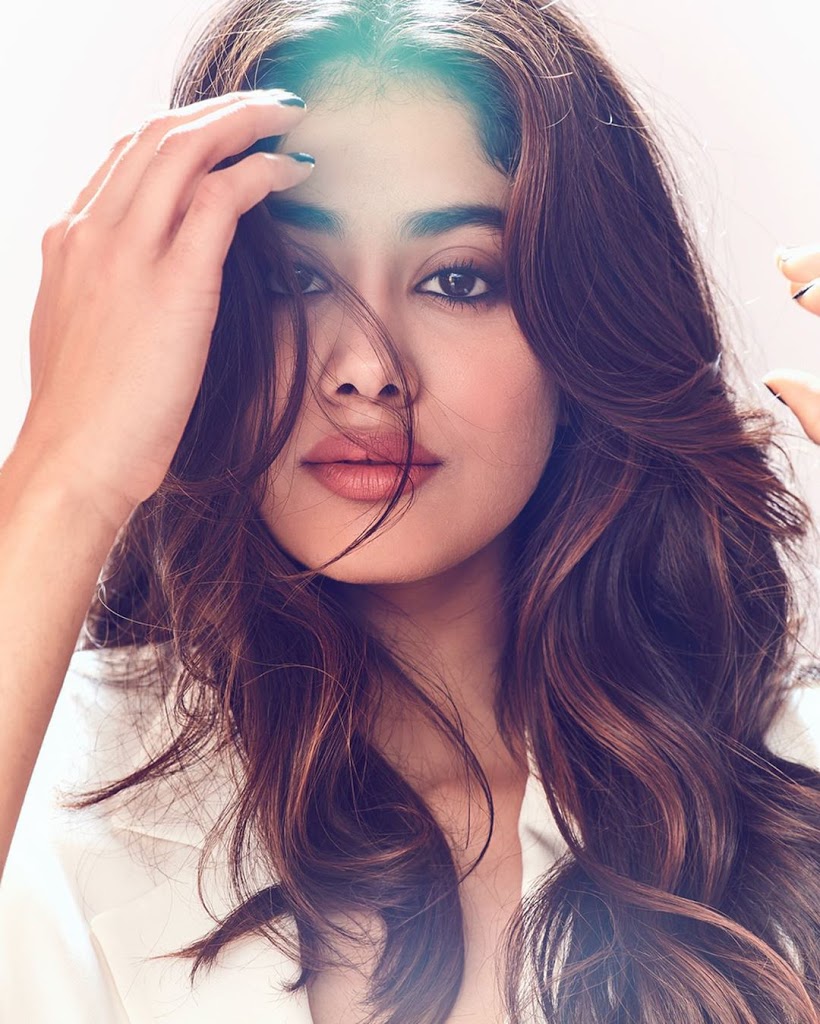 Known earlier with the name of her mother, Sridevi, Janhvi Kapoor had actually no identity of her own. But after first movie Dhadak under the banner of Dharma productions, she made an unforgettable image in the eyes of her fans and won the hearts of the audience. Today, entire world know her as Janhvi Kapoor and her inherited beauty is leading the hearts of her fans.
There is no doubt that Janhvi has its own different style and a unique fashion sense. Her perfect body just looks amazing in every outfit she carries and her flawless personality is just enhancing day by day. Below all photos from Janhvi Kapoor Instagram Page. Well, following are some of the best looks that Janhvi has carried and these looks will definitely drive you crazy for her:
Some of the Best Janhvi Kapoor Instagram Photos :
Beautiful Lehenga By Manish Malhotra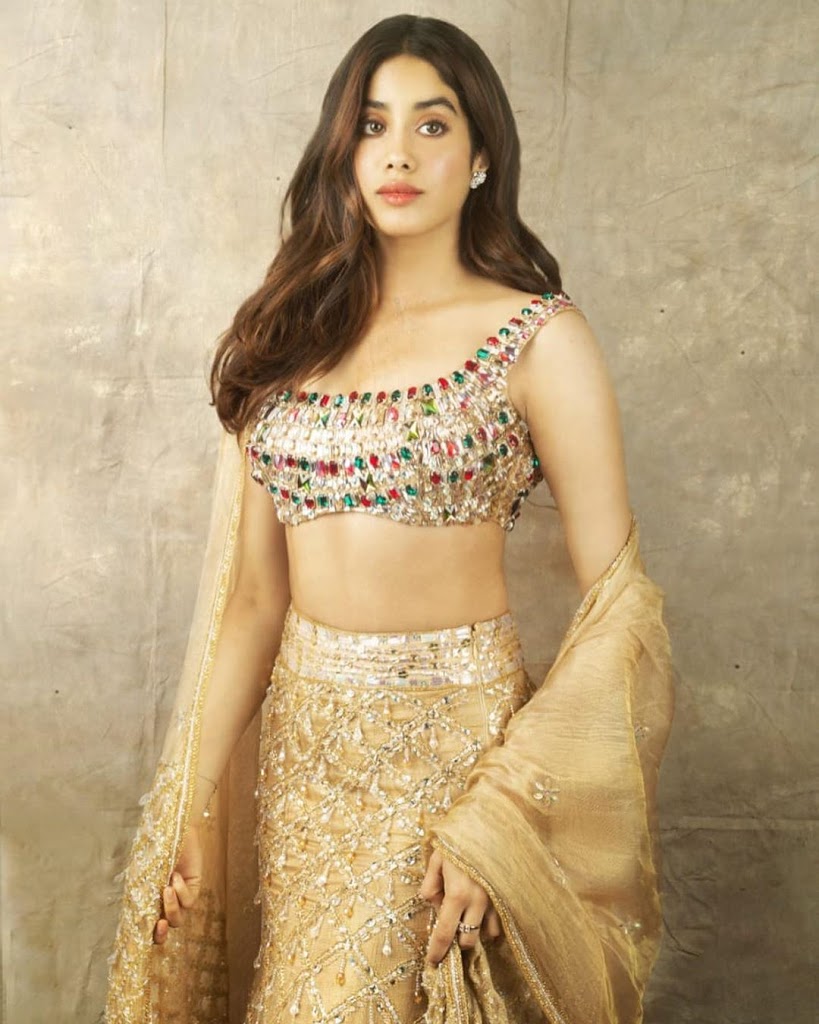 Image Source : Instagram
Looking not less than a diva, Janhvi Kapoor is totally slaying in this Indian attire. Her lehenga is designed by the famous designer, Manish Malhotra and there is no doubt that this pretty lehenga is looking much more prettier on Janhvi Kapoor. She has carried this outfit very simply and moreover, she had not wore any accessories and that is the reason that the look of the lehenga is coming out in an extraordinary way.
Side Cut Purple Dress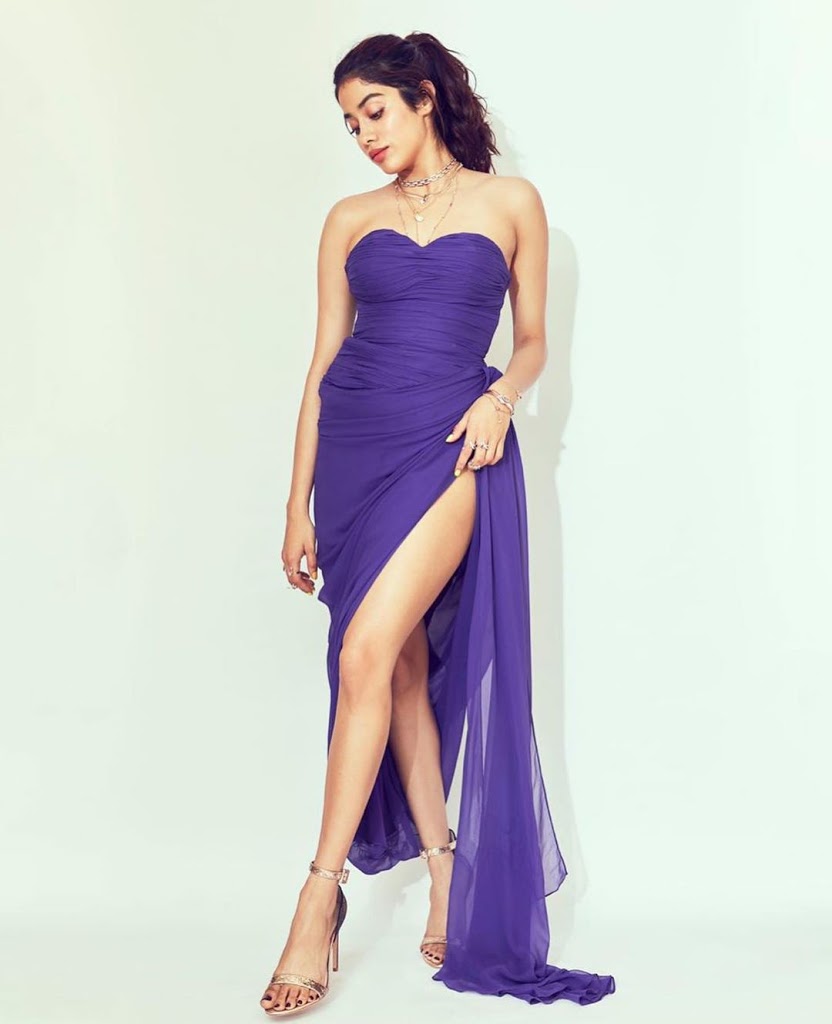 Image Source : Instagram
Beautifully carried this purple dress, Janhvi Kapoor is just looking outstanding in this beautiful purple dress which has a cut in the side and is off shoulder pattern. This purple color is just looking mazing on her flawless skin and redefining her beauty. She has carried a golden touched heels and standing firmly in her unique look.
There is no doubt that no one can beat the way in which Janhvi carries each of her looks and definitely, she justifies them very well. Her perfect body shape and tremendous figure makes her personality more attractive and definitely the outfits she carries, add colors to her overall look.
Bubbly Floral Printed Dress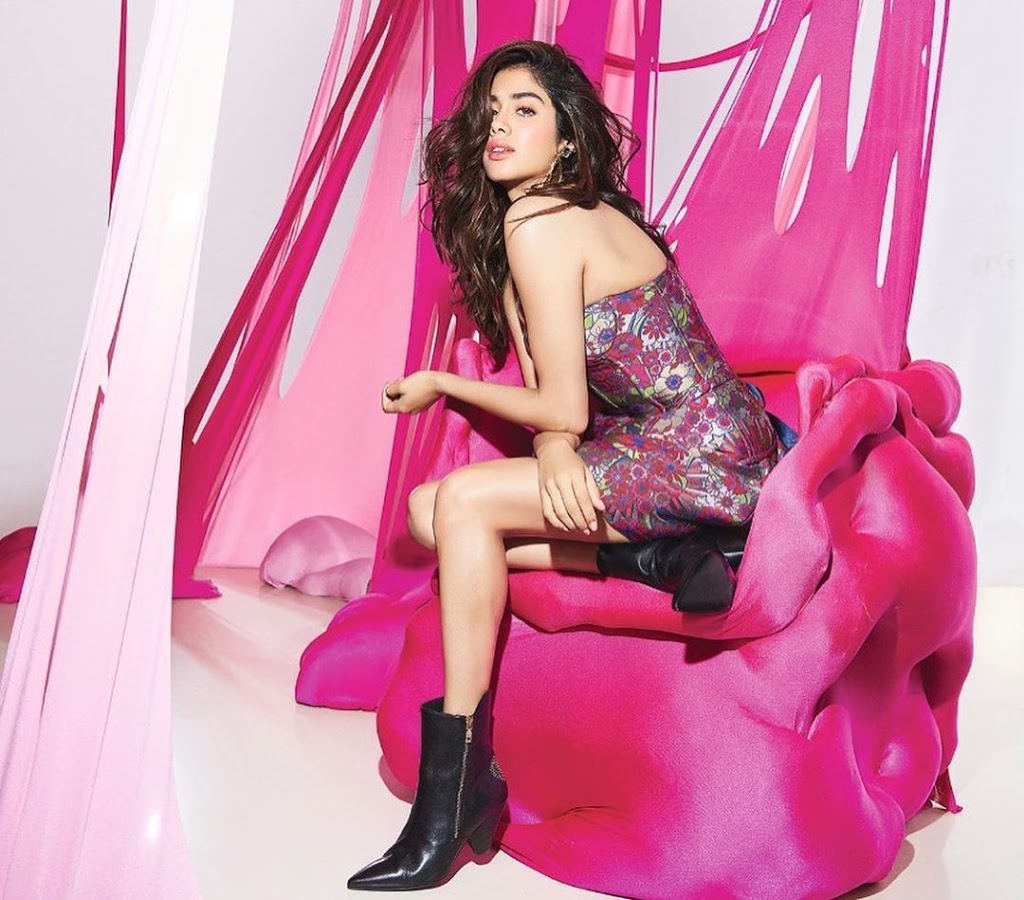 Image Source : Instagram
All time favorite, Janhvi Kapoor has been caught in this beautiful floral printed purple colored middy outfit. She is looking really fantastic and there would be no doubt that her fans will definitely like her this cute yet sexy look. She has carried this outfit with a pair of black ankle length boots and she is must looking outstanding.
She has always proved that it is not the dress which is different but the one who caries it should be different and Janhvi has always stood to the expectations of her fans and each of her looks win the hearts of the world.
Mesmerizing Pink Saree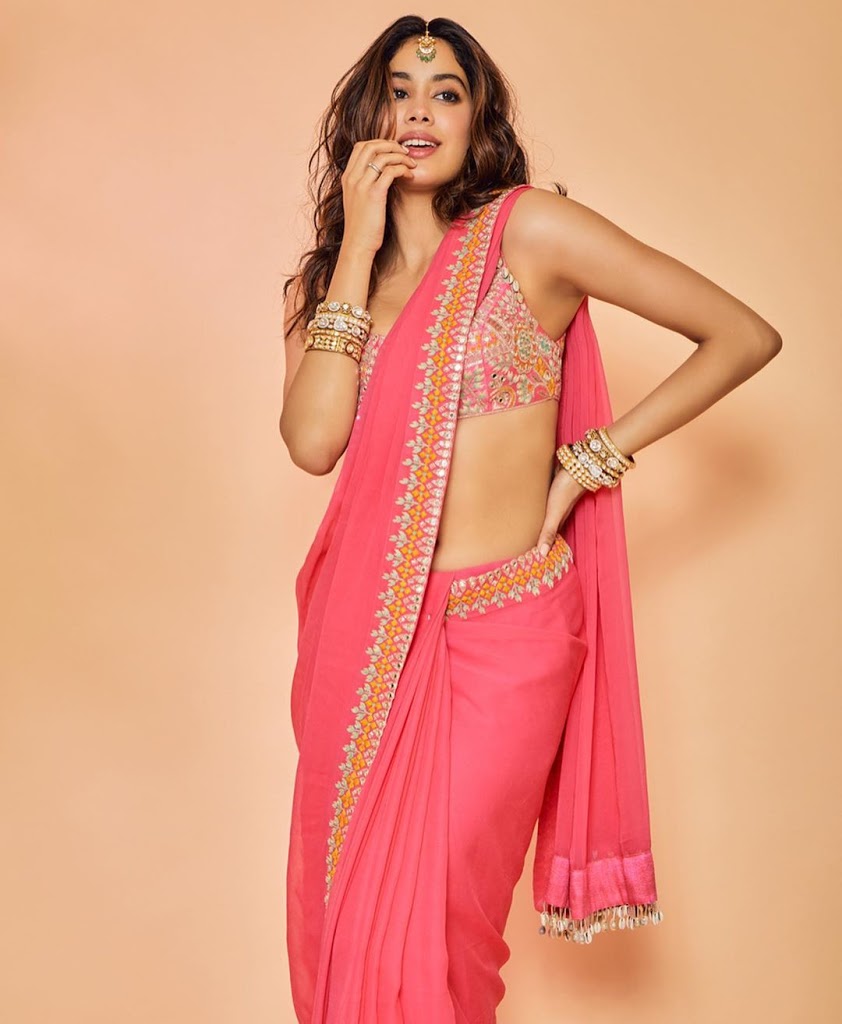 Image Source : Instagram
There is no doubt that any girl would look just awesome in the Indian Saree and something similar is here. Janhvi Kapoor is just looking mind-blowing in this beautiful pink saree. Her Indian look is just catching the attention of her fans and it is but obvious that many boys have died crazy for her this look.
Janhvi has carried this saree in such a unique way and her beautiful accessories is just adding stars to her perfect saree look. Her bangles are making her more attractive and it is quite obvious that her pretty little mangteeka is making her look more gorgeous.
Golden Green Lehenga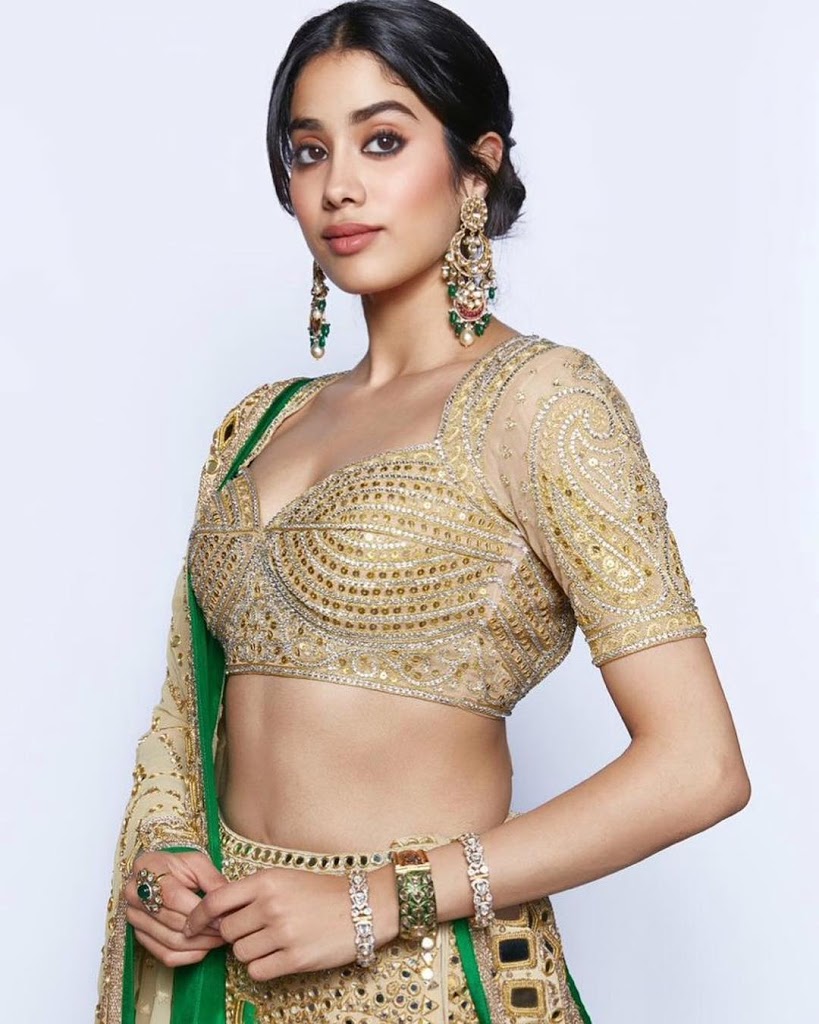 Image Source : Instagram
Though being a fresh face, Janhvi Kapoor never leaves a chance to attire herself in Indian outfits. Her Indian looks are something people die for. Here, this is one of the Janhvi Kapoor Instagram photos, she has wore this beautiful golden green lehenga and the way she is carrying this lehenga is just amazing.
She is effortlessly looking very pretty and fresh. The color is definitely looking gorgeous on her skin and adding colors to her personality. Her beautiful long green earrings are looking perfect ad making her look more gorgeous.
Hence, above were some of the Janhvi Kapoor's Instagram images in which she is looking flawless and definitely slaying in her unique and gorgeous outfits. These Janhvi Kapoor's Instagram picture's defines it very clearly that Janhvi Kapoor is one of those actress who have a different and versatile personality and looks just flawless in any look they carry.